This post may contain affiliate links, which means I'll receive a commission if you purchase through my links, at no extra cost to you. Please read full disclosure for more information.
As we approach the end of the year, it would be great if we took a moment to reflect on the things we have been grateful for in the past twelve months. I wrote a blog post early last year about "10 Reasons Why a Gratitude Journal Can Help You" and got a lot of positive feedback. So, as we get ready to welcome 2023, I am sharing another gratitude exercise through a gratitude log. This one is a little more elaborate and prompts you to look at the past year with gratitude. It will help you look forward to the new year with renewed optimism.
To some, 2022 was a challenging year. If you are apart from your family, you might feel homesick or anxious about missing out on time when you need to be with them. Or there may be challenges at work, in your finances, or in relationships. Now would be a great time to reflect on how you overcame these challenges.
Has it taught you how to be resilient and embrace moments of joy even when life feels uncertain?
Or you've had the most incredible year and are grateful for everything that has happened to you. How about the people who have helped you and the new friends you've made? This year-end activity is a great way to reflect on what worked well and could be improved.
What is a gratitude log?
A gratitude log is a tool to track the things in life that bring joy and appreciation. Keeping a gratitude log can help you take note of the positive aspects of your life. It can also help you be more mindful of the events or things that brought you great learning experiences. Writing down these moments helps to create an ongoing record of good memories, which you can refer to in times of stress or difficulty. With 2022 almost behind us, now is the perfect time to start your year-end gratitude log and look forward to a brighter 2023.
Why do you need a Year-end gratitude log?
It can be hard to focus on the positive moments. Still, a gratitude log is a great way to look back with an appreciation for everything we've gone through. We tend to do negative self-talk and sometimes believe it to be true. So being prompted to write about good things helps. It's not about toxic positivity. You need to have an outlet for your negative thoughts but also make an effort to go forward from it and think about how all the challenges encountered are shaping you.
This practice allows you to reflect on the things that make life good while also helping you cultivate more joy and happiness.
Not only does recording your gratitude increase your overall well-being and satisfaction with life, but it can also help set you up for success in the new year.
Related Post: 10 Reasons Why a Gratitude Journal Can Help You
How to create your year-end gratitude log: 6 Pillars of Wealth
Creating a gratitude log is relatively easy. All you need is some paper or an online journaling tool such as your notes app or Google Docs, where you can keep track of all your thoughts and memories from the past year.
The process is simple: Write at least one thing you are grateful for or even each quarter if monthly is too much for you. I recommend you look back on each of the following aspects of your life to make it as specific as possible.
These are the pillars of wealth based on the book "Redefine Wealth for Yourself" by Patrice Washington with Candice L Davis. I also plan to discuss this book and these pillars in the coming episodes, so watch out for that.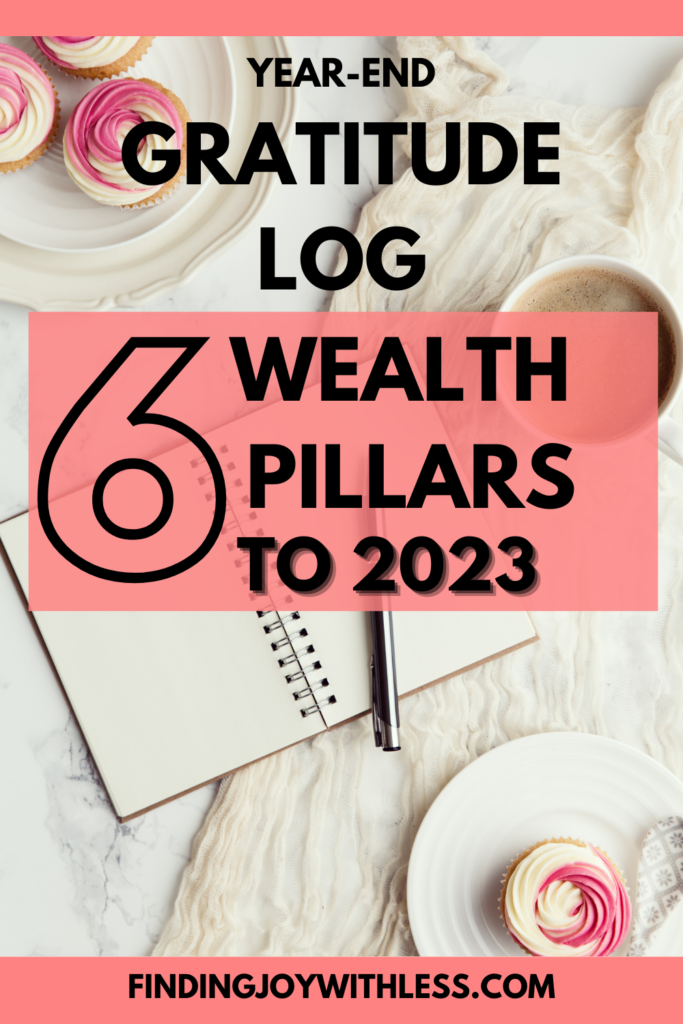 Health & Fitness Log
Look back on the things that happened to you regarding health and fitness. Here are a few examples some of us may have done that you can note:
In January, after all the holiday celebrations, I did a 2-day or a 5-day fast to detox my body
"I started walking for at least 15 minutes a day during the spring or summer."
"I focused on self-care.." write about the self-care rituals or activities you enjoyed each month
"I'm grateful my body recovered quickly from a serious injury."
Are there books you've read or videos you've watched about mental health that inspired you? Write those down.
People or Relationships Gratitude Log
Write about the people you've met, those who helped you through a tough time, and those you helped. Also, reflect on how your relationships were in the past year.
Your log will remind you of memories shared throughout the year and is a tool you can use to set goals for 2023.
When crafting your gratitude log, ensure that you are logging more than just special moments. Make sure to incorporate even small, everyday moments that you can recall. For example, writing down something funny or sweet that was said during dinner or jotting down how your partner helped out around the house.
Space Gratitude Log
You can also write about your surroundings, including things you have done for your home, office space, or even your closet.
Have you tried decluttering or organizing?
Was there stuff in your home that you had to let go of to give yourself more space, less work, and more free time?
Faith Log
Did you seek spiritual nourishment by connecting with your faith's practices and finding strength in God's promises? Taking the time to put your thoughts to paper helps you stay spiritually grounded while looking ahead toward a better future filled with blessings. Through prayerful contemplation, we can come away from this exercise feeling renewed, both mentally and spiritually.
Remind yourself of activities you participated in each month to cultivate your faith.
Work or Career Gratitude Log
This log should include projects you've completed, skills you've learned, challenges you've overcome, or lessons you've taken from your experiences. Taking the time to document our successes can be incredibly powerful in helping us stay motivated and keep striving for our goals.
Writing out your accomplishments reminds you of your achievements. It also allows you to reflect on what has made these achievements possible – such as mentors, colleagues, or even friends who supported your journey.
Money and Finances Gratitude Log
Reflect on your personal and financial successes over the past year, and look optimistic to 2023. A money or finance gratitude log can help us express appreciation for our income stream, investments, savings goals and other financial gains or milestones over the past twelve months.
Writing down specific things you are grateful for related to your money or finances can provide perspective. It can also motivate you as you plan for your future financial goals.
Where to write your Year-End Gratitude Log?
Consider any place that's comfortable and peaceful – somewhere free from distractions – so that you can take the time to reflect on your year with gratitude. Many options are available, such as writing in a journal or notebook, typing on your computer, or even scribbling on sticky notes. You may also want to find an inspiring location like nature if it helps get your creative juices flowing.
If you love to write in notebooks and journals, I recommend the following products for your year-end gratitude log.
Good Days Start With Gratitude
Gratitude Journal
Minimalist Journal
Looking Ahead with Appreciation: A Year-End Gratitude Log
Reflecting on the past year, taking the time to make a gratitude log can be an incredibly meaningful activity. As you read about what you wrote on the six pillars of wealth, take the time to consider what you have done, what you want to continue doing, what needs to stop and what needs improvement. As we turn our focus to 2023, this reflection can help you set realistic objectives for the upcoming year and take an intentional approach toward achieving those goals. The possibilities are endless when taking an active role in making positive changes for your future.
Take a few moments to create your year-end gratitude log. Make it as straightforward and personalized as possible so you can handle it. Share your progress in the comments, and let's finish this year with thankful hearts!
This post was proofread by Grammarly.