Because it is my birthday month, I am feeling generous! So please stay tuned to the end, and I will tell you what I am giving away to one subscriber this Christmas. Follow me on Instagram, and stick with me to the end. Okay?
I started Finding Joy with Less to stay motivated on our financial freedom journey as a family. I am a mother of two, a toddler and a teenager, and a wife to my wonderful husband, Harry. We migrated to Atlantic Canada from the Philippines in 2018.
Raised by a single parent with five kids and a former single mom to my daughter, I have first-hand experience understanding the struggles of living on a low income.
Growing up, I saw how my mother could make ends meet even though we were not well off. This experience has instilled in me the resilience needed when facing unique challenges on a tight budget.
I know firsthand the importance of being resourceful and creative to meet your family's basic needs. Whether it was finding ways to save money or cutting back on unnecessary expenses, these strategies allowed us to survive financially day by day.
Through this process, I learned the significance of looking at life from an optimistic perspective and overcoming obstacles with persistence and determination.
What to expect from this podcast?
Every week, you can expect a mix of practical information backed up by research and my own insights as we pursue financial freedom. I'll also be interviewing people from all walks of life to inspire you so that you can learn from their success stories too!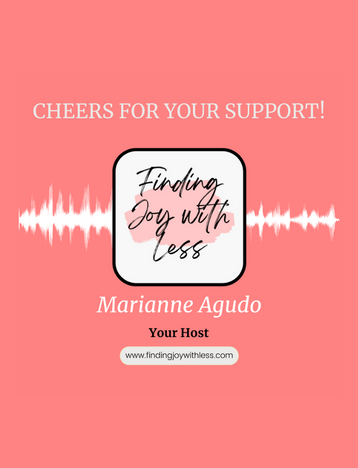 Find your purpose
Do you feel like your life has been put on hold, and you're ready to get back up and start over? Are you looking for a way to utilize your God-given gifts and talents to build a new life? If so, it's time to talk about resetting your life and starting fresh.
Taking the first steps toward building something new and exciting can be scary. But, with the right guidance and support, anything is possible. You have the ability within yourself to create an abundant future by using your natural abilities. With hard work, dedication, and faith in yourself, you can use your talents to reach goals that may have seemed unattainable before.
No longer will you need to feel stuck in an endless loop of complacency; now is the time for action.
Financial freedom tips
As we become aware of our purpose, we gain more clarity on how we'll be able to achieve our goals. Achieving financial freedom is a goal that many people strive for but find difficult to attain. But it doesn't have to be so complicated! There are simple steps we can take towards being debt-free and managing our family finances with greater ease, and we will talk about all of that in this podcast.
Financial freedom can be within reach through intentional living, frugal living, and using our inherent gifts and talents to bring in more income. We'll explore ways to decrease our debt, increase our savings and investments, reduce our spending, and live within a reasonable budget. As we manage our finances better, we'll become cheerful givers and better stewards of God's resources.
Now that you know what the show will be about, I want to thank you for tuning in. As mentioned earlier, I'm in the spirit of giving, so I will be giving one winner a Christmas gift card of your choice worth 100 Canadian dollars. Even outside Canada, you can be chosen as a winner in two ways: subscribe to my mailing list by clicking this link – Subscribe to Finding Joy with Less Podcast or follow my instagram @findingjoywithless and comment #findingjoywithlesswinner to any of my posts.
I will draw the winner for this giveaway at 11 PM Atlantic Time on December 13th. Make sure to follow or subscribe to this podcast for our upcoming episodes.
Thank you!
This post was proofread by Grammarly.