This post may contain affiliate links, which means I'll receive a commission if you purchase through my links, at no extra cost to you. Please read full disclosure for more information.
Listen to the podcast episode:
In the last episode, I shared how a year-end gratitude log can help us reflect on our challenges and accomplishments in the past year. I hope that has helped you identify the areas of your life that need focus, improvement, and continuance as we go forward to fulfill our life's purpose. If you have yet to listen to that episode, you can queue it up after this one.
I brought up the previous episode to emphasize that reflections on the past help us determine what we value most. Looking back on the things we are grateful for regarding health, relationships, space, career, finances, and faith makes us realize the areas where we define ourselves as wealthy.
Wealth is an incredibly diverse concept, and it can mean different things to different people. For some, wealth may come in tangible items such as expensive cars or homes with an exceptionally high monetary value. Others might view wealth more abstractly and think of it as the accumulation of experiences such as traveling to far-off places, experiencing diverse cultures, and having meaningful relationships with friends and family members. To many, wealth could also be reflected in one's physical and mental health, providing a sense of security and peace.
That being said, how and where we were raised affects our perspective on wealth. I come from a background of being raised in a single-income household in the Philippines. And back home, at least where I grew up, you are considered well-off if you have a car or a home.
No matter what your definition of wealth might be, unlocking hidden riches requires a certain level of self-awareness. Taking time to reflect on what matters most can help uncover the experiences that bring us lasting joy and satisfaction—the true sources of real wealth. In this episode, we'll look at some of the most critical factors contributing to happiness and well-being. The goal is to help you find ways to unlock the riches already within you so that you can live with greater joy and fulfillment in your own life.
Books worth reading
What is real wealth?
"People seeking riches never have enough. Wealth is a state of mind. Wealthy people always have enough."

Warren Buffett, one of the richest men alive
According to Thomas Oppong (2021), "Real wealth is the abundance of time and freedom to be who you are or want to be. It's the freedom to be yourself, to make an impact in someone's life and the opportunity to make a change that matters to you."
For Rich Fettke, Co-Founder and Co-CEO of RealWealth "I believe that real wealth is the ability to live life on your own terms. It's about having the money and the freedom to do what you want, when you want, with the people you want to be with and — most importantly — to enjoy each moment." (2022)
While researching this episode, I found a Real Wealth Assessment quiz and answered it out of curiosity. The results didn't shock me. Even though I am not wealthy financially, it validated what real wealth is for me because I can be with the people I want to be with.
The areas of my life that I consider affluent are my relationships, learning and development, and faith. Looking back at the past year, I am most grateful for my relationship with my loved ones, especially my husband. I also realize that I am privileged to have a work-at-home job which many women aspire to do. I'm also grateful for my learning and development opportunities and the knowledge that God gives us limitless possibilities in life if we allow Him to lead.
What about you? What areas of your life do you consider yourself to be rich in? You may be richer than you think.
The following questions will help you determine the areas where you are rich.
Health
How healthy is your current lifestyle?
Are you getting enough physical activity and eating a well-balanced diet?
Are you taking steps to ensure your mental well-being is being taken care of too?
These are just a few questions you should ask yourself when it comes to being mindful of your health. If you answered yes to all these questions, consider yourself winning in this aspect of your life.
Relationships
Do you have a positive attitude toward your family?
Do you like your friends and the people in your community?
Are you connected with like-minded people with whom you spend meaningful time?
Do you love spending time with your significant other?
Do you feel good about the legacy you leave for your family and future generations?
Do you have the freedom to be with the people you want to be with?
Strong relationships positively impact personal development, professional opportunities, and home life. Take the time to care for your relationships in thoughtful, authentic ways.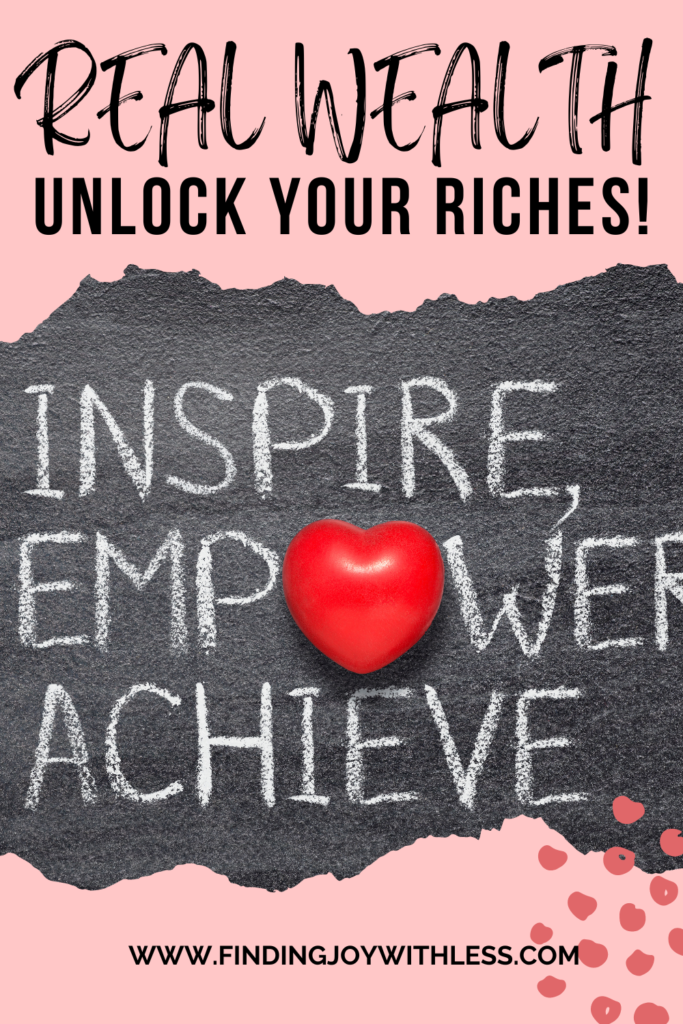 Space
One of the most overlooked pillars that contribute to our wealth is the environment in which we live.
No matter how big or small the space we live in, we should strive to make our living and working situation a place where we can be organized and relaxed in our thoughts.
Are you satisfied with your living situation?
Are you making intentional decisions on the items you bring home?
Work or Career
Do you have the freedom to choose the type of work to engage in?
Do you enjoy your job and feel ready to move on to the next chapter?
Would you choose a different career if allowed to start over?
Finances
When it comes to finances, there are far too many variables to consider, all of which influence our freedom of choice. I have much work to do in this area of my life, and I'm sure many people can relate.
Some questions to ask yourself would be:
Do you have enough cash flow to give you the confidence to handle unforeseen challenges or expenses?
Do you have a system for keeping track of your income, expenses, and financial reserves?
Do you have a sound system in place for managing and tracking the performance of your investments?
Do you have asset protection in place to guard against potential loss?
Do you have insurance to protect yourself from potential loss?
Do you have access to the right professionals to assist you with financial and legal assistance?
Do you have hope for the future and your ability to support yourself and your family?
Are you able to give and contribute to charities?
Can you provide your loved ones with the necessary resources to further their education, dreams, and goals?
Do you have enough money that having a job can be optional?
Faith
Do you have a positive outlook on your spiritual life?
Do you have a daily routine that supports your spiritual well-being?
Do you have a mentor or close friend with whom you can discuss your spiritual needs and growth?
Do you pray, meditate, and/or read the scriptures regularly to strengthen your spirituality?
What the bible says about wealth:
"Command those who are rich in this present world not to be arrogant nor to put their hope in wealth, which is so uncertain, but to put their hope in God, who richly provides us with everything for our enjoyment. Command them to do good, to be rich in good deeds, and to be generous and willing to share." – 1 Timothy 6:17-18
"Do not store up for yourselves treasures on earth, where moths and vermin destroy, and where thieves break in and steal. But store up for yourselves treasures in heaven, where moths and vermin do not destroy, and where thieves do not break in and steal." – Matthew 6:19-20
"Do not be anxious about anything, but in everything, by prayer and petition, with thanksgiving, present your requests to God. And the peace of God, which transcends all understanding, will guard your hearts and your minds in Christ Jesus." – Philippians 4:6-7 NIV
In conclusion, we can all become wealthy in different areas of our lives if we are willing to put in the effort and take the right steps. We can start by recognizing our strengths and developing them, staying positive and consistent in our actions, investing wisely with money and time, remaining open-minded, and, most importantly, acknowledging God's power and trust that He will provide for us. Our wealth is within us, and it's up to each of us to tap into it.
"But seek first the kingdom of God and his righteousness, and all these things will be added to you." – Matthew 6:33
This post was proofread by
Grammarly