Working from home can have benefits – spending more time with your family and having a better work/life balance. However, managing work and family responsibilities can be challenging if you have young kids at home.
Remote work might not appeal to everyone, but many of us were suddenly home soon after the pandemic with laptops and computer systems to continue conducting business for our employers. I like working from home! Most of us still do after restrictions have been lifted, and I am not one to complain.
In 2013, I was given an opportunity to accept an independent contract from a company based in Hong Kong while I was in the Philippines. It is a remote job offer. I enjoyed telecommuting until 2018 when we decided to move to Canada.
I speak from experience as I currently have a home-based job again here in Canada. Don't let working from home turn into a juggling act. Check out these ten tips to successfully work from home with kids.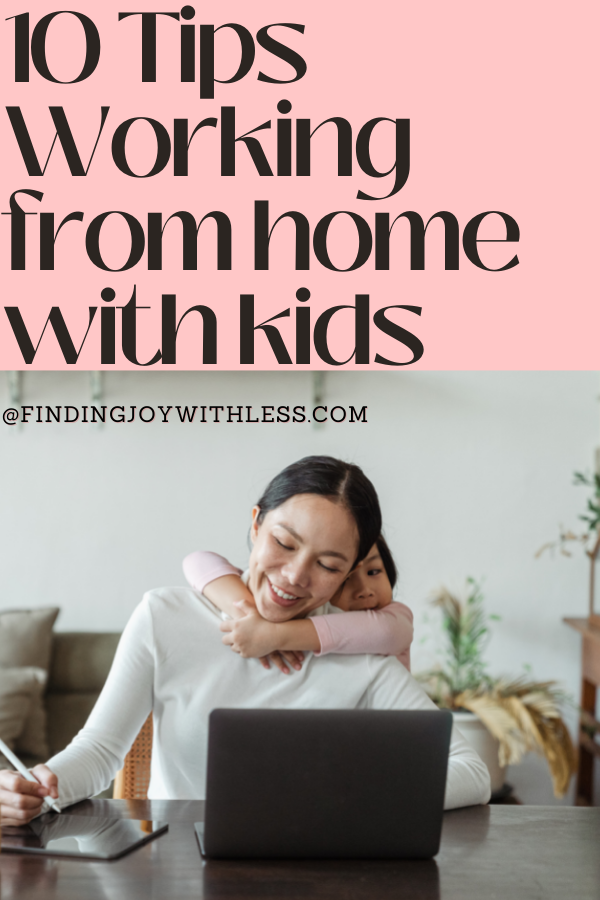 Set up a dedicated workspace.
We all know that having a secluded room may not be possible when we are solely caring for kids at home. However, we can still set up a dedicated workspace. This will help us to be more productive and effective in our work.
Here are some tips on how to set up a dedicated workspace:
1. Choose a place in your home where you can work comfortably and uninterrupted, if possible, lol. You set up a corner in your living room, bedroom, or kitchen table.
2. Make sure that your workspace is well-lit and has enough ventilation.
3. Keep your work area tidy and organized. This will help you to focus on your work and be more productive.
4. Invest in basic office supplies such as a desk, chair, lamp, etc. This will make your workspace more comfortable and functional.
Establish some rules and boundaries.
Set some rules and boundaries for kids to know when you're working or not. It can be as simple as telling them that, during work hours, you can't do things like play with them or watch TV with them. However, you can still do things like talk to them and help out with their homework if needed.
Explain to them that when you're working, you need to focus on your job and can't do other things. Let them know that it's essential to respect your work time so you can get your job done.
You might also want to set up some basic ground rules, like no screaming or running around while Mommy is working.
Take advantage of naptime.
Naptime is a sacred time in our house. It's when I can finally get to work on my blog without little fingers pulling at my clothes or demanding my attention. I take advantage of naptime to be more productive and get things done that I wouldn't be able to do with my toddler awake.
Naptime is the best time to get things done for parents working at home with kids and those with more flexible work schedules. It's a time when we can finally focus on our projects and get things done without interruption.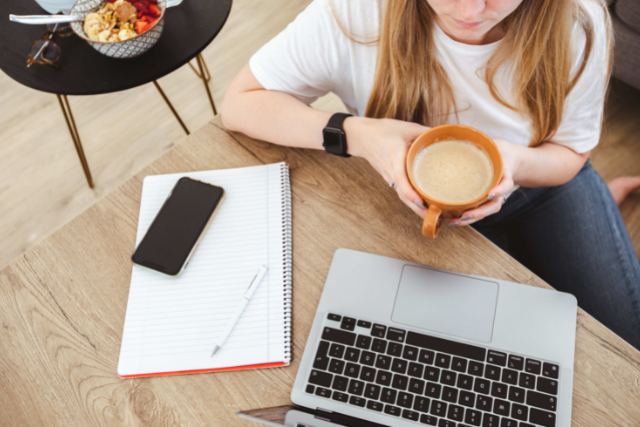 Create a daily schedule.
When working from home with kids, having a set daily schedule or routine will help you and your kids know what to expect each day. This can help to minimize disruptions and keep everyone on track. Having a pattern can also help reduce stress levels for you and your kids.
If possible, try to stick to a similar schedule as you would if you were working outside the home. Get up at the same time each day, take breaks simultaneously, and so on. If you have young kids, it can be helpful to create a visual schedule they can refer to. You can post it in a central location so everyone knows the plan for the day.
Minor tweaks to your daily routine can make a big difference in how well everyone functions while you are all working from home together.
Find creative ways to keep kids occupied.
It can be tough to find ways to keep kids occupied, especially if they are bored with their toys or don't have any interests. However, there are some things you can do to help.
First, try getting them involved in age-appropriate activities that keep them busy while you work. This could include things like puzzles, colouring books, or simple games.
You can also try to set up a small area for them to play with their toys. This way, they can still play with their favourite things while supervised. Take short breaks so you can play with them and give them your undivided attention. This will allow you to bond with them.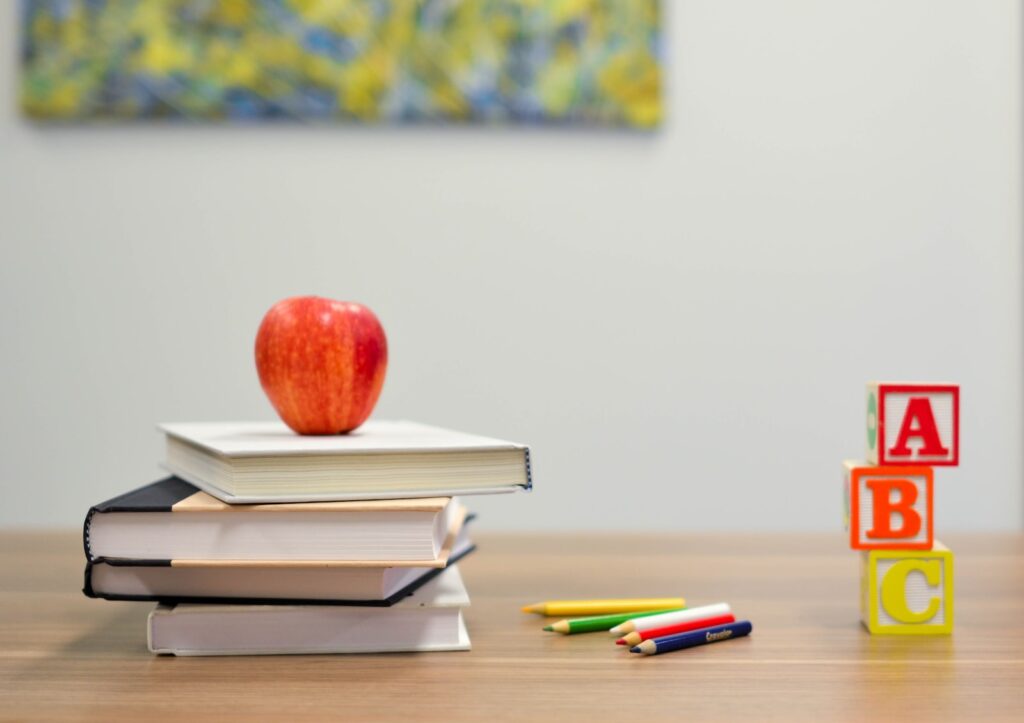 Get outside every day.
Getting outside every day is beneficial to yourself and your kids. Even if you can't make it to the park or the beach, simply walking around the block is better than sitting inside all day. Changing scenery from time to time helps you become more creative and inspired. Plus, it's a great way to get some exercise.
If you have small children, they probably need to run around and burn off some energy. Whenever possible, take advantage of the good weather and get outside.
Delegate Chores Accordingly.
When delegating chores around the house, it is essential to give age-appropriate tasks to everyone in the family. This way, you can avoid burning yourself out by doing everything, and everyone can learn how to take care of the home properly.
For example, small children can be responsible for picking up their toys and putting them away. Older kids can help with vacuuming, dusting, and emptying trash. And teenagers can help with cooking, laundry, and yard work.
By assigning chores based on age and ability, everyone in the family can contribute to keeping the home clean and tidy while also learning essential life skills.
Utilize screen time.
Some parents may not agree with me on this. However, we live in an age where electronics are a daily part of life. When I am working from home and need to focus, I utilize limited screen time for my kids. This means they can only watch learning stuff on TV or play on the iPad (for older children) for a set amount of time each day. I find that this helps them be more engaged when they are playing and helps me get more work done. It is a win-win for everyone involved.
Embrace this season of being with family.
I consider remote work a blessing in my life. I used to work in a fast-paced and demanding work environment, so when I got the opportunity to work from home, I grabbed it right away! Having been a solo parent for nine years while working full-time, juggling my career and parenting responsibilities was very challenging.
It was a life-changing experience for my daughter and me then. I was even able to homeschool her for a couple of years back home even though I have a 9-5 work schedule (based on the project country I am assigned).
Now that I am married, with a teenage daughter, and a toddler, I still benefit from this hybrid work setup. I am highly involved in my child's formative years and am grateful.
Do not go beyond work hours.
The most significant benefit of working in the confines of your home is achieving that work/life balance. You may be tempted to go beyond your schedule and become a workaholic, but it won't do you any good. It will only result in burnout.
True productivity is gained when you work within your set hours and care for yourself physically, mentally, and spiritually.
Whether you have an online business or you work for a company, working from home can be a great way to balance work and family life… but it's not always easy. Every situation can be unique so do what works best for you and your family. If you're struggling to make working from home with young kids work for you, hopefully, these tips will help. I wish you all the best!
Thank you for reading this post. If you have additional tips to make working from home with children more doable, please let me know in the comments below.
I would be happy to hear from you.