Most people, including myself, tend to overspend during the holiday season. Some may even say this is the time of the year when our credit card debts increase. But we love giving and receiving gifts! Even though I try to live a simplified life now, I still love receiving functional presents. And this is why I love doing the same for others. So this coming holiday season, I have compiled some frugal tips to get through this season, stay within our budget, and express our gift-giving love language without breaking the bank.
Plan ahead: Save money by planning your holiday budget and shopping early.
When saving money during the holiday season, having a plan is one of the best things you can do. Creating a budget and shopping early can help you avoid overspending and keep your finances in order.
Start by sitting down and creating a realistic budget for all of your holiday expenses. Include gifts, travel, food, and any other costs you may incur. Once you have a number in mind, start setting aside money each week or month so that you have enough saved up when the holidays roll around. I recommend writing it down in a Christmas or any planner that would help remind you of these plans. As a bonus, you can keep yourself in check by having a weekly calendar of things you still need to buy each week.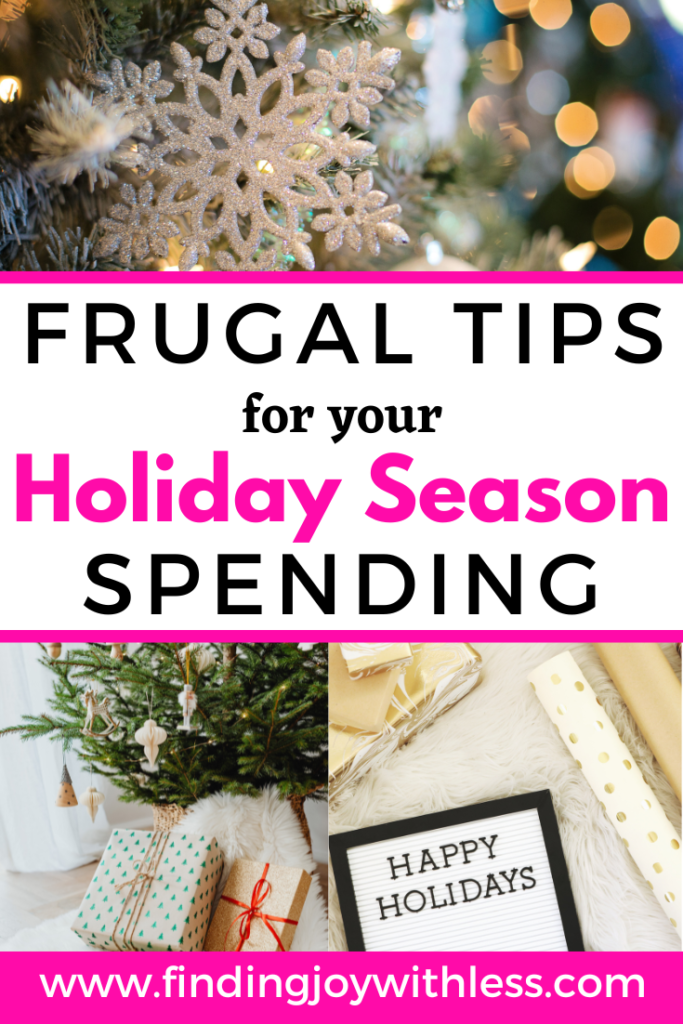 Another great way to save money is to shop early. You can take advantage of sales and deals and avoid last-minute impulse purchases. Plus, if you start your shopping early, you won't have to worry about rushing around at the last minute, which can lead to overspending.
I take advantage of end-of-season sales, Black Friday sales, Boxing Day sales, and other sales events to buy gifts for Christmas and birthday parties. So even though most minimalists would tell you to stay away from these events, we use it to our advantage to make the most out of our money. Also, we buy gifts throughout the year. We don't wait until December to start our Christmas shopping, but I feel you! Sometimes, there will be last-minute shopping needed.
I also use the internet to my advantage. I've found great deals on items for family members and friends by searching online and using apps like Rakuten and Amazon. And I can't tell you how often I have been in a store where I thought, "I could have saved money if I had shopped online." Sometimes I find better deals online than in the store. So I use the internet to my advantage. And if you're a shopper like me, you need to look for ways to get the most out of your funds.
When it comes to gift giving for the holiday, be thoughtful and make it meaningful.
The best gifts are those that we give with thought and care. Here are some tips to make your gifts more meaningful:
Be frugal when it comes to having holiday meals.
When it comes to holiday meal planning, you don't have to spend a fortune. You can make your meals and desserts and ask family and friends to bring dishes if they celebrate with you. For example, ask your guests if they want to make a side dish or dessert if you have turkey.
We do this with our family and friends every Christmas and New Year's eve. It's a fun way to celebrate the holiday and save money at the same time!
We can share delicious meals while still being frugal this holiday season. This means something other than skimping on quality or quantity but instead being smart about how you spend your money.
Here are some tips to help you save money on holiday meals:
Bonus tip: Start a side hustle to fund your holiday gift-giving next year
One of the best ways to ensure that you can afford to give your loved ones the gifts they deserve during the holidays is to start a side hustle.
Not only will a side hustle help you to make extra money, but it will also give you a sense of satisfaction and accomplishment. Plus, it can be a great way to meet new people and learn new skills. Plenty of online resources and communities can help you get started if you need help figuring out where to start. Check out the blog post about work-from-home jobs that will help bring additional income.
So if you're looking for a way to fund your holiday gift-giving next year, consider starting a side hustle. It could be the best decision you ever make.
Join
shareasale.com
, Earn Cash!
Following these frugal living tips can help you save money during the holiday season. By planning and shopping early, you can avoid last-minute expenses. And giving thoughtful, meaningful gifts can show your loved ones how much you care without breaking the bank. Lastly, serving up some simple yet delicious holiday meals can be a great way to save money without sacrificing flavour or tradition. So this holiday season, keep your budget from getting in the course of your enjoyment.
What other ways can you think of to reduce spending on holidays this year? Let me know in the comments below.