Babies are expensive! Between the diapers, wipes, clothes, and toys, it may feel like you can never have enough money to cover all of your baby's needs. However, there are ways to save money on baby products without sacrificing quality or convenience. This blog post will discuss some tips for having a baby on a budget. We will also provide a list of our favorite affordable baby products!
When you are expecting a baby, everyone is eager to help you prepare for the arrival of your little one! Family and friends will often ask you what you need for the baby, and many people love to give gifts. When I had my eldest 16 years ago, baby showers were not as hype as it is nowadays where I used to live, but my family still showered us with many blessings as everyone was so excited about the first baby in the family. Then I had my second child amid a pandemic lockdown. Even though I did not experience such parties, my family and friends at church were gracious enough to send us lots of diapers and baby wipes that we didn't have to shop for a few months after our youngest was born.
Related Post: Essential Baby Items? What's worth getting now and what you won't need.
As an Amazon Associate, I may earn from qualifying purchases when you click on the links; at no additional cost to you. Please see the disclosure policy for more information.
Optimize your baby registry or wishlist.
A great way to save money on baby products is to be strategic about your registry or wishlist. Choose items that you need or that will be used often. For example, consider investing in baby gears instead rather than registering for a dozen newborn onesies that your baby will only wear for a few weeks. If you want very minimal items for your baby, having a diaper party is preferable to a baby shower.
Limit the number of new baby products you buy.
When you are looking for baby products, do your research! It can be easy to get caught up in buying all the latest and greatest baby products, but it is crucial to think about what you really need. Not every product on the market is essential, and often there are cheaper alternatives that can work just as well. Be sure to consider what you and your baby only need before making any purchases.
A great way to narrow down your choices is to read or watch reviews from other parents. You can find reviews online, Youtube, or even from people you know. Once you have read a few reviews, you will be able to identify better what products are worth your money.
Register for Freebies on Essentials
New and expecting parents can sign up for a lot of freebies. These programs usually require you to provide basic information about yourself as well, but in return will give coupons or samples that may include full-sized products! Companies like Enfamil or Nestle continuously send coupons according to your child's age, usually until the end of toddlerhood.
Here are some examples for you:
Similac® Canada – Sign Up To Join The Club
$160 Enfamil Baby Package – Baby Coupons & Samples
Babies R Us® Registry – Sign Up & Get a Baby Swag Bag
Sign Up For Free Huggies® – Free Newborn Diapers & Wipes
Amazon Baby Registry Welcome Gift
Consider buying used products
It is necessary to be open to all options when you are on a budget! Buying used products can be a great way to save money, as long as you are careful about what you buy. For example, it is usually safe to buy used clothes or baby-wearing items, and you can often find items in excellent condition. However, you should be cautious buying used car seats or cribs, as these items may not meet current safety standards. Just be sure to inspect any used items carefully before making a purchase. You can usually find great deals on used baby products at consignment sales, garage sales, or online marketplaces like Facebook Marketplace or eBay.
Choose cheaper brands or generic items when possible.
There are many affordable brands of baby products available, and sometimes it is worth considering generic or store-brand items. These products may not be as high quality as the more expensive brands, but they can still be effective and save you money. If you are looking for a cheaper alternative to a high-end product, do your research to find the best option for your needs.
Compare prices online.
If you're looking for the best deals on baby products, checking different websites is a great way to save money. You can find some of your favorite diapers and car seats by comparison shopping at various stores like Walmart or Babies R Us that offer price-matching policies! Plus, don't forget about coupons–you might just uncover an even more excellent savings opportunity if you happen upon one while surfing around online.
Shop at discount stores or buy in bulk.
I recommend buying diapers from big box stores like Costco and SNR as the price per unit is usually lesser than regular boxes. Places like Walmart and local discount stores typically offer lower prices on baby products such as infant formula and breast milk production gears than more upscale retailers. They also tend to have a good selection, so you're sure to find what you need.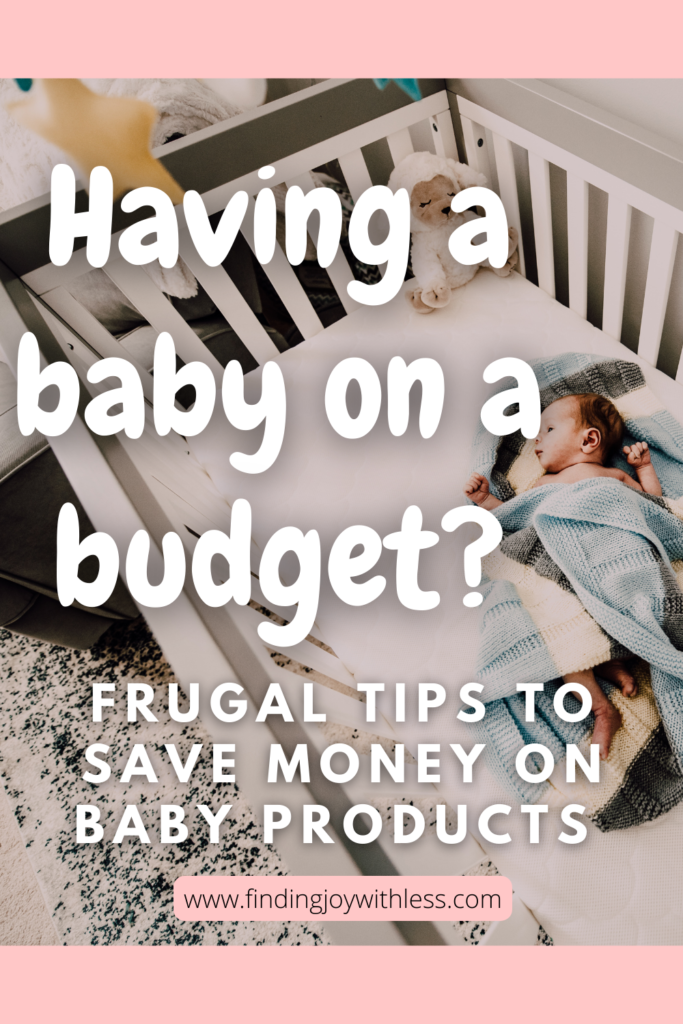 Consider hand-me-downs or borrowing from a family member or close friends.
If you are on a tight budget, don't be afraid to ask for help in the form of hand-me-downs or gently used items. Often, people have extra items they don't need and are happy to lend them out. Just be sure to ask before borrowing anything, and remember to return the items in good condition.
Join a baby gear rental program
Another way to save money on baby products is to join a baby gear rental program. This can be a great option if you only need certain items for a short period. You can find programs at local stores or online.
Check with your local social services agency or religious organization.
Some social service agencies and religious organizations offer free or low-cost baby products to families in need. This can be a great option if you struggle to afford the items you need. Be sure to check with your local agency or organization to see what is available.
Related Post: Essential Baby Items? What's worth getting now and what you won't need.
Use cloth diapers instead of disposable ones to save money on diaper purchases, which can add up quickly!
While I feel that cloth diapers are not the best option for my family and me for personal reasons, cloth diapers are a great way to save money on baby products. They can be a little more work than disposable diapers, but they are cheaper and more environmentally friendly in the long run. There are many different cloth diapers available to find the perfect option for your needs.
These are just a few tips for having a baby on a budget. By being strategic about your purchases and taking advantage of freebies, you can easily save money on baby products without skimping on quality.
Do you have any other suggestions for saving money on baby gear? Share them with us in the comments!
Looking for our recommended baby registry items? Check out our list of favorites below!