Bible verses can help to remind us of all the blessings that God has given us, even if these blessings seem small or insignificant. It is a good reminder that any material possessions we have are only possible because of God's grace and mercy. When we live in this way, it brings harmony to our lives. We can know more joy and contentment because we are not constantly comparing ourselves to others. Instead, we are grateful for the many blessings that God has given us.
In today's culture, it seems like we can never have enough. We think that more will make us happier and wealthier. And while this may be true to some extent, there is a point where having too much becomes an issue. When we're so busy acquiring things, it's easy to forget God's blessings: family, friends, good health, and a roof over our heads. These are just some of the many things we should be thankful for.
While it's not wrong to want material possessions, we should be careful not to let them become our primary focus in life. Instead, let's keep things in perspective and remember what's truly important.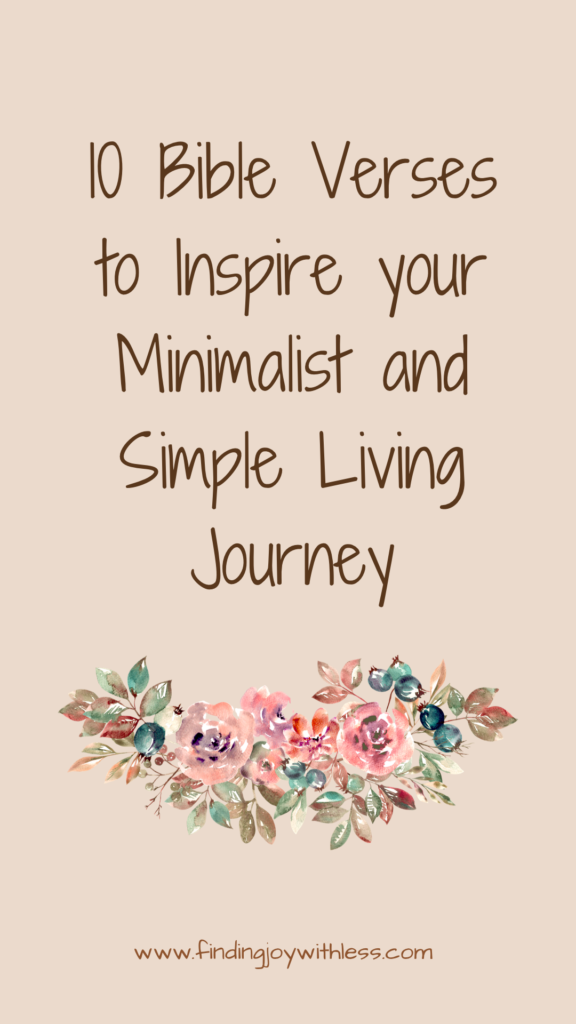 Why does God want us to live a simple life?
God wants us to focus on Him and our relationship with Him rather than on the things of this world. When material possessions bog us down, it is difficult to concentrate on anything else. But when we simplify our lives, we can better focus on what is essential. We can devote more time and energy to God and the important relationships in our lives.
Living a minimalist lifestyle can also be good for our wallets! When we don't have a lot of possessions, we don't have to spend a lot of money on them. We can save our money for other things, such as giving to others or investing in our future.
There are many benefits to living a minimalist lifestyle. Bible verses on minimalism and simple living can help us to remember all of the blessings that come with it.
1. "Command those who are rich in this present world not to be arrogant nor to put their hope in wealth, which is so uncertain, but to put their hope in God, who richly provides us with everything for our enjoyment." (1 Timothy 6:17)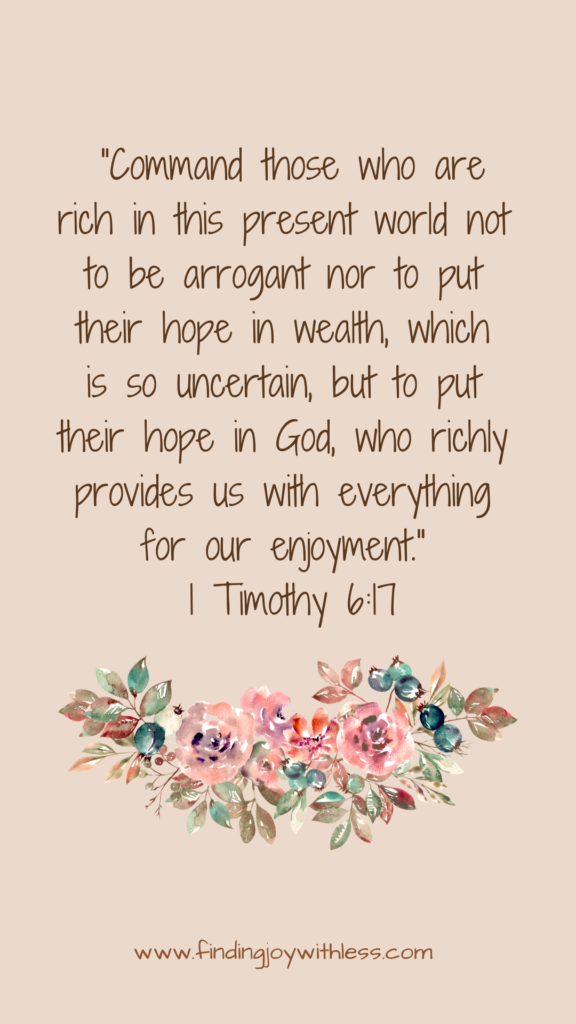 2. "Do not store up for yourselves treasures on earth, where moths and rust destroy, and where thieves break in and steal." (Matthew 6:19)
3. "Therefore I tell you, do not worry about your life, what you will eat or drink; or about your body, what you will wear. Is not life more than food, and the body more than clothes?" (Matthew 6:25)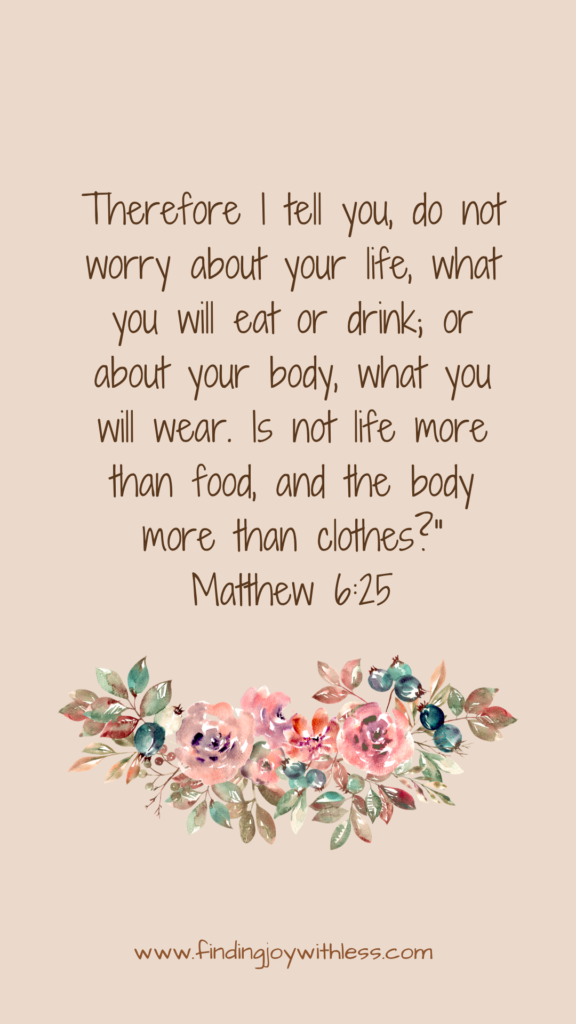 4. "And he said to them, 'Take care, and be on your guard against all covetousness, for one's life does not consist in the abundance of his possessions.'" (Luke 12:15)
5. "Do not labour for the food that perishes, but for the food that endures to eternal life, which the Son of Man will give to you. For on him God the Father has set his seal." (John 6:27)
6. "And he said to all, 'If anyone would come after me, let him deny himself and take up his cross daily and follow me.'" (Luke 9:23)
7. "But godliness with contentment is great gain." (1 Timothy 6:6)
8. "If they obey and serve him,
they will spend the rest of
their days in prosperity and
their years in contentment." (Job 36:11)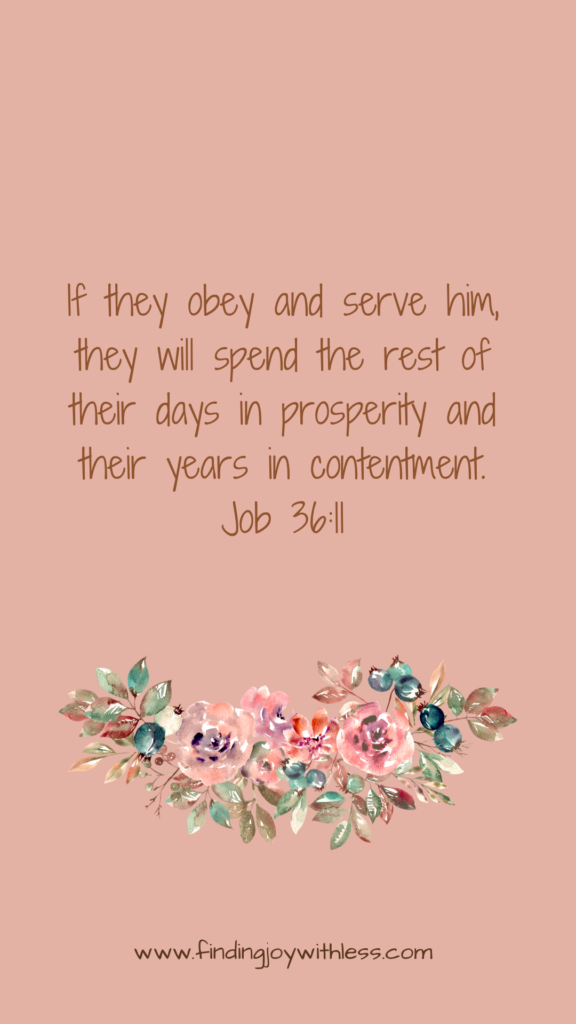 9. "Cast your bread upon the waters, for you will find it after many days." (Ecclesiastes 11:1)
10. "Don't copy the behavior and customs of this world, but let God transform you into a new person by changing the way you think. Then you will learn to know God's will for you, which is good and pleasing and perfect." (Romans 12:2)
I hope these verses have inspired you. So next time you're feeling overwhelmed by your possessions, remember these Bible verses and consider simplifying your life!
Please help spread the word by sharing this post on social media.